Scott Disick Blows Up at Kris Jenner's Boyfriend for Threatening to Spank Daughter Penelope in 'Kardashians' Clip
For parents, it's one of the most relatable moments in the history of the show.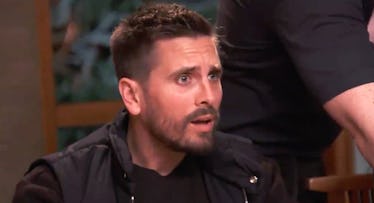 Twitter/@KUWTK
A brief clip from this Sunday's Keeping Up with the Kardashians shows the family sitting down to dinner and, as is wont to happen on the show, drama ensues. But instead of the minor family spats that make up a typical Kardashian storyline, this argument is about something very relatable and very serious.
The source of the conflict? Spanking. Specifically, Kris Jenner's boyfriend Corey Gamble saying that he would spank her granddaughter, Penelope Disick. That did not sit well with Penelope's dad, Scott Disick.
"If P[enelope] scratch me, I'm whipping her ass," Gamble says.
A clearly distressed Disick replies, "My daughter?"
"Give her a spanking for sure," Gamble replies to him, as if hitting someone else's kid is the most natural thing in the world.
"My little daughter?!" Disick reacts, incredulous that a 38-year-old man is threatening violence against a seven-year-old girl.
"Whippin' is that discipline!" Gamble replies, echoing a belief that can charitably be called old-fashioned.
"Don't ever talk about a child like that!" Disick shouts back, earning a vulgar reply from Gamble.
It's impossible, given the, uh, aggressive editing techniques used on the show how accurately this clip captures what really happened, but the clip as it exists does touch on a decision parents have to make: whether or not to spank their kids.
Luckily for them, it's an easy decision. Don't do it. Ever.
Gamble's approach leads to kids who are much more likely to use physical violence against their intimate partners when they grow up. Kids who are spanked are also at increased risk of substance use, suicide attempts, and cognitive problems, among a host of other issues. That's not an opinion, that's just what scientific studies have said.
And beyond that, spanking isn't actually effective at what parents who spank are, in theory at least, trying to do: change the behavior of the kid receiving the spanking. In fact, aggression and a negative relationship with parents are two of the detrimental outcomes that have been associated with spanking.
So while it's still technically legal to spank your kids in the United States, it's not wise to do so, particularly when there are actually effective parenting strategies that don't involve violence.
And when the guy dating your daughter's grandmother is the one threatening to do the spanking? It's easy to understand why Disick got so angry.
This article was originally published on