Kat Von D Asked a Stranger for Breast Milk to Feed Her Baby
The new mom opened up about her struggles with breastfeeding.
by Alicia Kort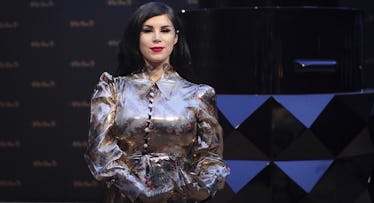 Getty Images
Make-up entrepreneur and celebrity tattoo artist, Kat Von D, opened up about her struggle to breastfeed her newborn. Von D gave birth to her first son, Leafar Von D Reyes, last month. The celebrity had planned on breastfeeding from the get-go, but she ran into some unexpected snags. Her first few days with her baby were much more stressful than she anticipated.
"During the first two days of Leafar's life, his blood sugar count had been low, and as much as I had committed myself to strictly breastfeed, my milk hadn't come in yet," Von D wrote in an Instagram post. "The pediatrician suggested asking around to see if any friends might have a bit of extra milk they could donate – and if not, I'd have to consider supplementing with formula – something we personally did not want to do."
Von D reached out to her midwife, Sara Howard, asking her if she might know anyone who would be willing to donate their breastmilk. She emphasized that she wanted breastmilk from someone who ate a plant-based diet.
Luckily, a woman named Morgan Campbell helped her out in her time of need.
"…without even knowing me, and without question, [she] stepped up and donated a few ounces to us in the middle of the night," She wrote in her Instagram post. "Needless to say, Leafar's levels boosted, and we are now happily breastfeeding at home."
In her post, which included a video of Von D breastfeeding her son, she thanked Campbell for her generosity and for helping her and her husband get "through those rough nights."
Von D says that she hopes to pay the favor forward one day.