Joe Biden Visited Son's Grave After He Won the Election
Beau Biden passed away five years ago at the age of 45.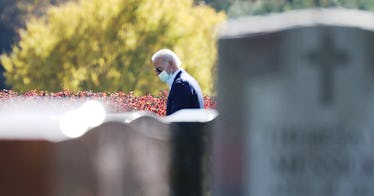 GETTY
As one of his first actions as President-Elect of the United States, Joe Biden visited the Delaware cemetery where several family members are interred. His late wife Neilia and daughter Naomi, who died in a car crash less than a month before his first Senate term began are buried there as is his son Beau, who died in 2015 at the age of 46.
With daughter Ashley and 14-year-old grandson Hunter in tow, Biden walked over to the cemetery adjacent to St. Joseph on the Brandywine in Wilmington after attending Sunday morning mass. He had also visited the cemetery earlier that week, stopping by after an early morning visit to church on Election Day.
That he has experienced such tremendous loss in his life is something Joe Biden has never shied away from. Biden's pre-presidential run book, Promise Me, Dad, was a memoir about Beau's battle with cancer and how it informed Biden's final year as vice president and his political future. At the Democratic National Convention that formally nominated Biden for president, much of the biographical narrative focused on Biden's resilience in the face of loss, seeking to create a relatable, sympathetic figure.
In his victory speech, which he finally got a chance to deliver on Saturday night, Biden mentioned his late son.
"In the last days of the campaign, I've been thinking about a hymn that means a lot to me and to my family, particularly my deceased son Beau. It captures the faith that sustains me and which I believe sustains America, and I hope it can provide some comfort and solace to the more than 230,000 families who have lost a loved one to this terrible virus this year. My heart goes out to each and every one of you," he said before reciting the Catholic hymn "Up On Eagle's Wings."
This article was originally published on