Joe Biden Signs Executive Order to Speed Up Stimulus Payments
He also reiterated his desire for another round of checks.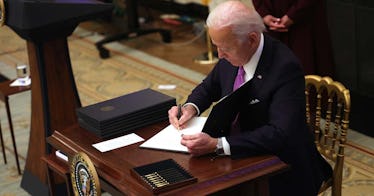 Getty
The second stimulus payment passed at the very end of 2020 might have been insultingly small coming from a wealthy country nine months into a crippling pandemic, but $600 is better than nothing. Unfortunately, many people who are due the payment have yet to receive it, a problem that Joe Biden addressed this morning with an executive order.
"As the President fights to get Americans the full $2,000 in direct payments they deserve, his administration is also working to ensure that all those who are eligible receive their full payments," a White House statement on the executive order read, referring to the extra $1,400 in stimulus payments Joe Biden has included in his COVID-19 stimulus package.
The statement went on to identify the goal as "equitable and effective delivery of direct payment" with a "focus on getting relief to eligible individuals who have not received the financial assistance to which they are entitled."
What's less clear is what, exactly, the Biden administration is going to do about it. The language of the statement, which is all we have to go one since the actual text of the action is not yet available online, is ambiguous.
"[T]he President is asking the Department of Treasury to consider taking a series of actions to expand and improve delivery of Economic Impact Payments including establishing online tools for claiming their payments, working to make sure that those who have not yet accessed their funds get the relief they deserve, and analyzing unserved households to inform additional outreach efforts."
Of course, asking someone to "consider" something is a far cry from demanding, ordering, or even directing them to take a specific action. And speaking of specific actions, "establishing online tools," "working to make sure" and "analyzing…to inform" aren't exactly marching orders yet.
It's an encouraging sign that Biden is making this a public priority so early in his administration, it's hopefully the precursor to a concrete set of steps that will get money into Americans' pockets ASAP.
This article was originally published on