Joe Biden Says Vaccination Authorization for Young Kids Will Come Near Beginning of the School Year
The president also said unvaccinated kids would likely have to wear masks at school.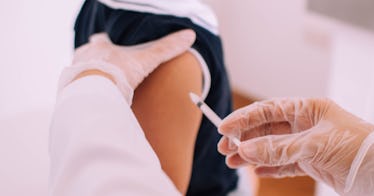 President Joe Biden just broke two big pieces of news for parents of kids. First, that the vaccines would be made available to kids under 12 soon. Second, that the FDA would likely recommend that schools require unvaccinated kids to wear masks when they return to in-person school this fall.
Biden made his comments at a CNN town hall in Cincinnati on Wednesday.
"My expectation talking to the group of scientists we put together, over 20 of them, plus others in the field, is that sometime maybe in the beginning of the school year, at the end of August, beginning of September, October, they'll get a final approval," he said.
USA Today calls that an "unlikely timeline" given that the results of trials for the Moderna and Pfizer vaccines for younger children aren't expected until the fall. But the Pfizer executive responsible for vaccine R&D said an emergency use authorization for kids aged 5 to 11 would likely come in September or October.
Biden also said that the Center for Disease Control and Prevention would likely recommend that children who are not vaccinated wear marks at school. Their July 9 guidance said that fully vaccinated children would not need to wear masks at school, contra a statement from the American Academy of Pediatrics released Monday recommending that all children over the age of two should wear a mask in school regardless of their vaccination status.
The Delta variant has led to rising cases across the country in the two weeks between these statements, and it will be interesting to see if the CDC follows the AAP's lead given these recent developments.
What seems clear is that there are some disagreements among experts and decision-makers in the public and private sectors about both the timeline for getting more kids eligible for the vaccination and the proper rules to implement when schools reopen in the fall. That leaves parents waiting for definitive information from the powers-that-be, guidance that hopefully comes sooner rather than later.