Slow Job Growth Greets Unemployed Workers After Benefit Cuts
Cutting benefits was supposed to increase employment. It hasn't.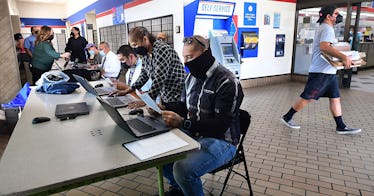 GETTY
The economy added just 194,000 jobs last month. That's a disappointing figure for investors hoping robust growth would lift stocks, but it amounts to a slow-moving disaster for unemployed workers trying to survive after expanded unemployment benefits prompted by the pandemic were unceremoniously yanked away on September 5.
Economists had hoped that school reopenings in August and September would allow parents to return to the workforce. But whatever positive job growth came out of that dynamic was limited by the dramatic spike in cases caused by the delta variant and worsened by a recalcitrant minority's refusal to mask and/or receive a COVID vaccine.
The current sorry state of the recovery is all the more tragic because the Washington conventional wisdom that allowed unemployment insurance to expire turned out to be wishful thinking. The belief that cutting benefits would push people back into the workforce—and the implication that their laziness was to blame for the slow recovery—proved incorrect. More people actually left the workforce in September, and the end of unemployment benefits did little to stimulate hiring.
Things were worse in Republican-controlled states, of course, where GOP governors opted out of unemployment funds early after business owners complained (instead of raising wages and improving working conditions). But Democrats from Joe Biden on down, excepting some on the left flank, did not even consider extending the benefits until the crisis was truly over.
The new data reflects a survey taken the week ending September 12, and economists say that Hurricane Ida, which made landfall in Louisiana on August 29, likely contributed to the disappointing results. But it's pandemic, of course, that stubbornly continues to be the biggest drag on the economy. And it's not being felt evenly.
The economic recovery has, according to an analysis in the Washington Post, "largely left behind Black Americans and workers without college degrees." Those with degrees had fully recovered all of their losses by May; those without remain 4.6 million jobs short of pre-pandemic employment levels.
Black Americans with college degrees are more likely to be unemployed than White Americans without. Black women are the demographic group doing the worst, with 550,000 more unemployed now than were in February 2020. The lack of affordable childcare is a huge driver of their particular disparity.
All in all, the economy is improving, but more slowly than expected and in a way that doesn't benefit everyone. Millions remain unemployed and without the funds they used to survive the pandemic so far, with what sure looks like a tough winter ahead.