Joaquin Phoenix and Rooney Mara Named Their New Baby After River Phoenix
Joaquin's brother tragically died of a drug overdose at the age of 23.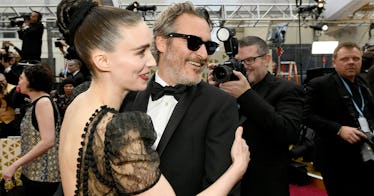 Getty
Joaquin Phoenix and his fiancée Rooney Mara just welcomed their first child, a boy the couple named River. He is the first child for both actors, and he is named for Phoenix's late brother.
The news comes courtesy of Victor Kossakovsky, a Russian filmmaker who confirmed the existence and name of the couple's baby during an appearance at the Zurich Film Festival.
"He just got baby, by the way. A beautiful son called River," Kossakovsky said while promoting Gunda, a black-and-white documentary about farm animals that he directed and Phoenix produced when asked why Phoenix wasn't promoting the film himself.
The newborn River's namesake had a short but impressive film career in seminal films like Stand by Me and My Own Private Idaho, earning an Academy Award nomination for the latter. He tragically overdosed and died 27 years ago at the age of 23. Joaquin had turned 19 three days earlier
Naming his son "River" isn't the first time Joaquin Phoenix has paid tribute to his late brother. When he won the Oscar for Best Actor for last year's Joker, he mentioned River in his acceptance speech: "When he was 17, my brother wrote this lyric. He said, 'Run to the rescue with love, and peace will follow.'"
This article was originally published on