Jimmy Kimmel Calls Out Politicians Who 'Do Nothing' to Protect Kids
Kimmel had no shortage of words for the Congressional inaction that will likely continue long after the most recent school shooting.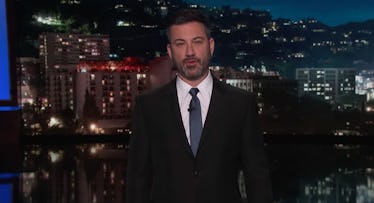 Youtube/ Jimmy Kimmel Live
Before inviting a guest out or even telling a single joke, late-night host Jimmy Kimmel took a moment to speak on the tragic school shooting that took place in Santa Fe, Texas on Friday. In his short opening monologue, the comedian specifically took aim at President Donald Trump and NRA-backed Republicans in Congress who have slowed or stalled efforts to pass new gun violence legislation both historically and in the wake of the the murder of 17 children in Parkland, Florida in February.
Last Friday's shooting took place at Santa Fe High School and claimed the lives of 10 people, most of whom were students, and resulted in 10 more people being injured and hospitalized.
"Once again our leaders are sending their thoughts and prayers. President Trump said that he is with the people of Santa Fe in this tragic hour and he will be with them forever, except for when it comes time to do something. Then he will not be with them," Kimmel told his audience on Friday. "Neither will any of the congresspeople or governors who don't ever do anything because they're fearful that it will hurt them politically…they're too cowardly to do the right thing."
Kimmel called out Congress for being more concerned with keeping their "pockets full of gun money" and accused politicians of stalling and waiting for the outrage to pass.
Kimmel ended his monologue by telling his audience that everyday citizens aren't the ones who make laws, but the politicians they elect are. He encouraged people to get out and vote, saying that it was the only way to solve the problem of school shootings and gun violence in America. To close he plugged the Everytown for Gun Safety Action Fund while juxtaposing clips of survivors of the Santa Fe High School massacre against clips of several politicians lauding the second amendment.