Jimmy Kimmel Is About to Become Your Kid's Favorite Author
Bed time is about to get a lot more hilarious.
by Catherine Santino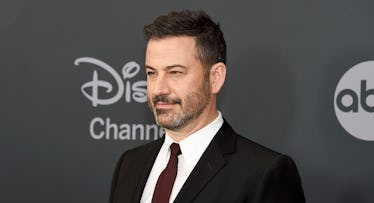 Getty
Jimmy Kimmel is many things: comedian, host, producer, and now: children's book author. The 51-year-old late night television star announced that he's written and hand-illustrated a picture book, The Serious Goose.
"Inspired by Jimmy's nickname for his kids, THE SERIOUS GOOSE encourages readers to embrace their silly side," the press release reads. "A Mylar mirror adds to the interactive fun and challenges kids to try to make Kimmel's no-nonsense goose smile. Kimmel's foray into publishing features not only his humorous text, but his own hand-drawn illustrations. In Kimmel's words, he is 'an amateur illustrator who tortured his editors because he doesn't know how to use digital equipment.'" Kimmel's not the first late-night funny man to channel his way with words into a children's book. In 2015, Jimmy Fallon released the title, Your Baby's First Word Will Be Dada.
What's better, Kimmel's book is also all being done for a good cause. All proceeds from sales will be donated to Children's Hospital Los Angeles (CHLA) and children's hospitals around the country. The donations are being made in honor of Kimmel's son Billy, who was born with a rare heart condition and underwent lifesaving surgery at CHLA. Since his two-year-old son's birth, Kimmel has been a huge advocate for accessible healthcare. During an episode of his late night show in December 2017, he called out Congress for failing to renew funding for CHIP (Children's Health Insurance Program), an affordable healthcare program.
The Serious Goose will be published in December 2019 and is available to pre-order now.