Jimmy Kimmel Says the Creator of Baby Shark Should Be Put in Prison
A lot of parents agree with him.
by Amanda Tarlton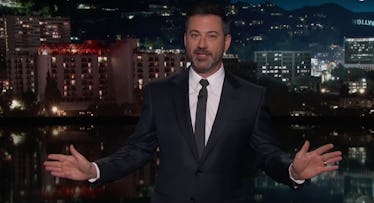 Jimmy Kimmel Live/YouTube
Jimmy Kimmel hates "Baby Shark" so much, he thinks that whoever created it should be put in prison. On Thursday's airing of Jimmy Kimmel Live!, the late-night host questions the recent success of the catchy children's song stuck in every parent's head.
"How this got into the top 40 I really don't know, but I don't think I'm overreacting when I say that whoever is responsible for it should be locked in prison for the rest of their lives," Kimmel said of the viral tune, which hit the Billboard Hot 100 list at No. 32 this week. "And then when they die, their bodies should be fed to the very sharks they sang about."
In the clip (which is titled "HOW is Baby Shark on the Top 40 Billboard Charts???" on YouTube), the 51-year-old host introduces "Baby Shark" by warning audience members that "your life is about to change forever because once you hear this, you will never be able to shake it loose."
Joking that it feels like the 90-second song goes on "longer than Shark Week," Kimmel then explains that "Baby Shark" came from either France or Germany, although "who we have to blame, we do not know for sure." He adds that 30 million of the song's 2.1 billion views on YouTube likely came from his four-year-old daughter Jane alone.
Other parents share the father of four's feelings about the earworm. "It's bloody awful and gives me a headache," wrote one fan, while another took it even further, saying, "They should play that in prison, literally ear torture. Use as a punishment by playing that song nonstop, make a person go insane faster than anything else."
This article was originally published on