JetBlue Banned a Guy Who Flew With the Coronavirus for Life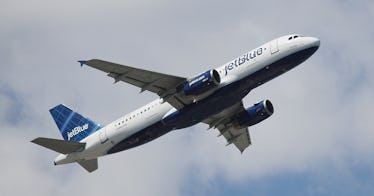 Getty
In a breathtaking act of selfishness, a guy who was concerned enough that might have the coronavirus to go through the hoops of getting a test boarded a JetBlue flight departing from JFK International Airport in New York on Wednesday. He only notified the crew that he had tested positive when the plane landed in West Palm Beach, Florida.
"Last night's event put our crew members, customers, and federal and local officials in an unsettling situation that could have easily been avoided, and as such, this customer will not be permitted to fly on JetBlue in the future," the airline told CNN in a statement Thursday. That's a good thing, but it's nowhere near the harsh penalty this guy deserves.
When he did finally tell the flight attendants he'd tested positive, it set off a chain reaction. Officials at JFK were alert, and crew began cleaning all of the areas the man passed through in that airport, using security camera footage to guide their efforts. At the West Palm Beach Airport, Concourse A, where the plane landed and its 114 passengers disembarked, was temporarily shut down for cleaning. On Thursday, crews in hazmat gear cleaned the plane itself.
It's bad enough to get on a plane when you think you might have the virus, but another passenger claims that the man and his wife acted as though they knew he'd tested positive.
"The person across the way from me was taken to the back of the plane," passenger Scott Rodman told WPTV. "He was wearing masks and gloves. His wife was sitting in the same row as me and mentioned to others that he wasn't feeling well. She said he had gotten a phone call with his test results right before we had taken off, implying that he had a positive test but not actually saying it."
Of course, the correct course of action if you think there's a good chance you have COVID-19 (to the point where you've secured a test for it!) and knowing that you actually do have COVID-19 are exactly the same: don't get on a damn plane!
This article was originally published on