Jessica Simpson Gets Mom-Shamed for Dyeing Her Daughter's Hair
Will the mom-shaming ever end?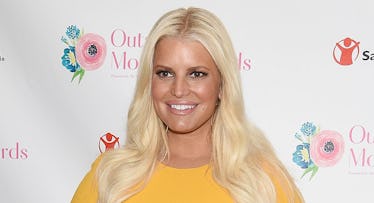 Getty
Can parents ever do anything right? If you're a celebrity parent, the answer is no, at least according to the parenting police. Most recently, Jessica Simpson is getting heat for allowing her 7-year-old daughter to dye her hair purple. The 39-year-old entrepreneur and mom of three shared a picture of her daughter Maxwell's new look to Instagram, and the mom-shamers had a field day. Surprise, surprise.
In the photo, Maxwell shows off her long blonde hair that's tinted purple at the ends. According to Simpson's caption, the look was inspired by the Disney TV movie series The Descendants. The lead character in the series, Maleficent (or "Mal") has bright purple hair, so it's safe to assume Maxwell is emulating her. Simpson also shared a sweet picture of Maxwell smiling with the stylists at Nine Zero One salon in West Hollywood, who are responsible for the dye job.
What should have been an exciting moment for a mother and her daughter quickly turned to a flurry of mom-shaming in the photo's comments. "Isn't she too young to have her hair dyed?" wrote one user. "So young it's a shame," said another.
But where there are mom-shamers, there are mom-defenders. "What she and her daughter do to her hair is none of anyone's business," said one follower. "Seriously people need to stop getting your undies in a bunch it's just hair," said another. "You can cut it and it grows back!! For real." Others simply pointed out how adorable Maxwell looks. The official Instagram for The Descendants even commented "Looking good!"
Can't we just let them live?
This article was originally published on