Jerry Seinfeld Perfectly Photobombed His Daughter's Prom Photos
...And not with his face.
by Catherine Santino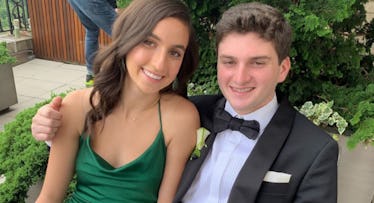 Instagram
What is fatherhood if not humiliating your children at every opportunity? Jerry Seinfeld has fully latched onto this concept, as evidenced by a recent photobomb of epic proportions.
The comedian's wife, Jessica Seinfeld, posted a photo of their 18-year-old daughter Sascha and her date before heading to prom. At first glance, it seems like a normal photo of the teenaged couple all dressed-up for the big night. But in the background, Seinfeld can be seen bent over behind a tree, totally pulling focus from the sweet shot.
Jessica calls out her husband in the caption, saying: "I could not resist posting Couple of The Year and Jerry's Rear." It's not clear whether Seinfeld is intentionally photobombing, but it's an incredible moment regardless.
Fans and followers are loving the peak Embarrassing Dad moment (which now has almost 33,000 likes), taking full opportunity to pull in references from his TV shows.
"JUST RIGHT💚," one follower commented. "PS: are those jeans still a 31?" (If you're a Seinfeld fan, you'll get that one.) "Comedians in Shrubbery Bending Over," wrote another, in reference to his web series Comedians In Cars Getting Coffee.
But many are also congratulating the Seinfelds on their daughter's milestone. The pair married in 1999 and have two other children, 16-year-old son Julian Kal and 13-year-old son Sheheard Kellan. With three teenagers, Seinfeld has plenty of opportunities to embarrass his kids ahead of him. And based on this masterful trolling, we can't wait to see what other embarrassing shenanigans the legendary comedian has up his sleeve.