Trebek Wants a Funny Woman to Replace Him As the Next 'Jeopardy!' Host
We'll miss him, but he's got a point.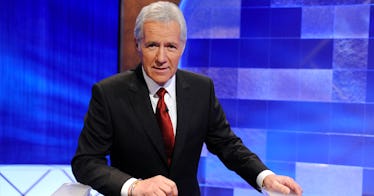 Getty
It's almost impossible to imagine, but there will come a day when Alex Trebek isn't the host of Jeopardy! In 2018, he told TMZ's Harvey Levin (of all people) that the odds of him returning to the show after 2020 were about 50-50, and it's hard to imagine that his pancreatic cancer diagnosis is making it more likely that he'll stick around for a long time.
And while we're not emotionally prepared to think about Jeopardy! sans Trebek, he's given it some thought, as he shared at a recent panel promoting the Jeopardy! The Greatest of All Time primetime event that aired its second episode last night.
"When people ask me who I'd like to see replace me, I say, 'Well, it's probably going to be a woman and she'll have to be bright. She'll have to have a good sense of humor.'"
Trebek joked that Betty White would be a good fit for the role, though the producers will likely want someone a bit younger who, even if they don't match Trebek's 36 seasons and counting, can provide the show with stability for many years to come.
But just because Trebek has thoughts it doesn't mean he'll actually help select his successor.
"It's not a decision that would be up to me and I would not make myself available to presenting an opinion," he said. "I would leave it up to the people in charge."
The other big takeaway from Trebek's comments is that while he's decided how to end his final show, with a 30-second speech to viewers, he hasn't decided when that final show will be.
"I'm 79 now, and I don't foresee that 30-second moment coming up in the near future," Trebek said. "When you've been in the same job for that long a period of time and you're in advanced years, it behooves you to think at some point about retiring. Now, thinking about retiring and retiring are two different things."
This article was originally published on