James Holzhauer Delivered the Greatest 'Jeopardy!' Burn of All Time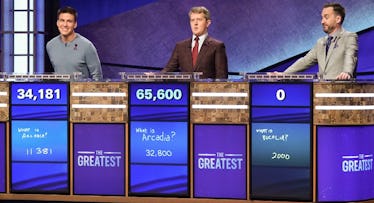 ABC
Brad Rutter has had a rough time in the Jeopardy! The Greatest of All Time tournament. Going into last night's episode, he had yet to win a match, and entering Final Jeopardy for the first game he had just 2,000 points. He wagered them all, couldn't come up with the correct answer, and thus finished the game with zero. Tough luck.
The structure of the competition is such that two games are played per night and it's the cumulative score that matters. As Alex Trebek was explaining that, the contestants' scores displayed on their podia were zeroed out in preparation for the second game. Given that he ended the first match with zero, Brad's didn't change, and James Holzhauer saw the opportunity for a sick burn.
You can hear the audience gasping and laughing as the typically polite competition gets a bit of trash talk, albeit friendly trash talk.
Trebek handles the moment deftly like the pro that he is, but the best response is Ken Jennings's, the winner of the first match and the guy occupying the second podium between Hozhauer and Rutter. He starts laughing and sort of bends down over his podium, visibly losing it in a way that suggests he thinks the joke was funny and that he's a bit uncomfortable, putting up his hands and saying "Wow!"
For his part, Rutter cracked a grin and held his hands up, protesting his innocence. But as a Philadelphia sports fan, it was only a matter of time before he came back at Holzhauer with a retort.
In fact, all three have developed a robust and entertaining Twitter presence where the jokes have been flying.
But in the end, the three seem to be genuinely fond of each other, and there was nothing but respect between them.
This article was originally published on