Take That Trebek! This Final 'Jeopardy!' Clue Was Wrong
The least controversial show on television is suddenly engulfed in the nerdiest possible controversy.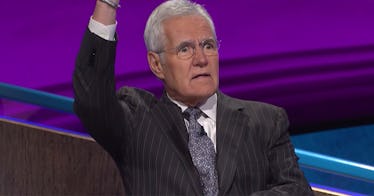 The best thing about Jeopardy! is its reliability. The show's had the same format and same host (give or take a beard) for decades. It's on at the same time on the same channel. An army of researchers and fact-checkers to ensure its clues are correct.
So when the latter get something wrong, or even close to wrong, it's kind of a big deal. And that's exactly what happened last night, in no less a crucial spot than Final Jeopardy.
This was the answer provided in the category Oscar-winning films: The first words spoken in this 1970 Best Picture Oscar winner are "Ten-Hut! Be seated!"
These two things are true:
So the 1970 winner doesn't open with those lines, and the film that does didn't win Best Picture until 1971.
The invaluable J! Archive reveals that Jeopardy! has constructed clues this way before without controversy. For instance, during January 30, 1997 episode, a clue refers to the "Best Picture of 1968" as Oliver! even though it didn't win the Best Picture Oscar until 1969.
On the September 19, 2003 episode, a clue in the category "Best Pictures in Other Words" read thusly: 1970: "World War II's Commander of the Third Army." The remaining clues in the category use the same convention, citing the year of release instead of the year the film actually won the award, although for one film those years are actually the same.
Grand Hotel was released on April 12, 1932, and it took home an Oscar on November 18 of the same year, the second-to-last ceremony before the Academy moved it to its current place early in the year and made only films from the previous calendar year eligible. Since then, films that win the prestigious honor are typically identified by the year they won the award, not their release year, which is always the previous year.
On the other hand, an image of the actual award reveals that Jeff Bridges's Best Actor award for Crazy Heart, released in 2009 but award in 2010, has the year 2009 on it. So maybe the Jeopardy! writing staff has a point?
Is this more than you expected to read about the technicalities of the Oscars today? Undoubtedly. Is it strange that Jeopardy! continues to go against the commonplace method of identifying winners, writing clues that endanger its sterling reputation for accuracy? You bet it is, particularly when there are clues like last night's Final Jeopardy that imply that the year is attached to the award and not the film.
What's inarguable is that the best response to the controversy definitely belonged to Jennifer Quail, the returning champion who answered "correctly" with Patton and extended her win streak to five games.
This article was originally published on