How 'Jeopardy!' Champ Holzhauer Gamed the System
The four secrets to his success.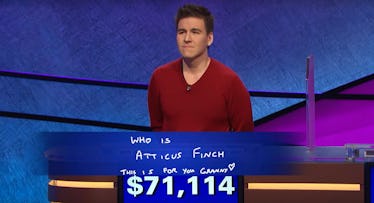 Jeopardy!/YouTube
The most interesting part of James Holzhauer's record-breaking run on Jeopardy! wasn't that he was so wildly successful — it was that he never seemed to break a sweat.
Holzhauer holds the top 10 single-day record totals and won $2,462,216 over 33 appearances on the show. He could've won more, but he used Final Jeopardy to get final scores that referenced important dates in his life, such as his wedding anniversary and his daughter's birthday. He's also left notes for loved ones under his written wager.
"Since I could have bet more on Final Jeopardy," he told the Washington Post. "It'll end up being the most expensive birthday gift I ever get my daughter."
No matter what was thrown at him in his appearances on the show, Holzhauer had the answers (or, rather, the questions). But, how, exactly, did he manage to be so dominant? By our count, there are four ways in which he excelled on the show.
First, content knowledge. Thanks to a long trivia career that started with high school quiz bowl, his deep reading of children's books, and, of course, watching Jeopardy! for hours on end, Holzhauer has the solid base of general knowledge that's a precondition for getting on the show.
Second, buzzer skills. The Ringer went deep on Holzhauer's method, which involves putting on dress shoes, standing in front of the television, and practicing with a mechanical pencil wrapped in masking tape.
Ken Jennings, who won a record 74 straight games, told the site that almost everyone on the show knows the answers to almost every question, so "buzzer timing really becomes what tends to separate the winner from the non-winners." It's safe to say Holzhauer is a winner, and his buzzer timing is a key strength.
Third, Daily Doubles. Knowing the answers and ringing in at the right time didn't just help Holzhauer rack up money on normal clues. It also gave him control of the board, and, unsurprisingly for the former math major and quiz show veteran, he had a strategy for how he picked clues.
Holzhauer told NPR that he starts at the bottom of the board with the highest-value clues in order to build up a "decent-sized bankroll." Once he has one, he looks for the Daily Doubles, the three clues in the first two rounds that allow players to wager all or some of their accumulated cash.
Fourth, is something we'll loosely call Holzhauer's risk-tolerant personality. When he hit those Daily Doubles, he had a tendency to wager everything he had, powered by confidence that he'd likely get the answer right and that, even if he missed it, he had the ability to come back.
It's the kind of ideology that successful gamblers like Holzhauer, who makes his living betting on sports, often have. Sometimes the smart bet is the big bet, and a willingness to make it without fear and as part of a consistent strategy, is essential for success.
"The real advantage I draw from my job is that I don't have a mental block about betting $38,314 on one trivia question," Holzhauer told Wired. "It's only money." And when you consider the money Holzhauer left on the table as an homage to his daughter, it seems he always believed he'd pass $2,000,000 in winnings.
This article was originally published on