Jenna Fischer's Kids Gave Her a Bill After Serving Breakfast in Bed on Mother's Day
Not exactly the treat she was expecting.
by Amanda Tarlton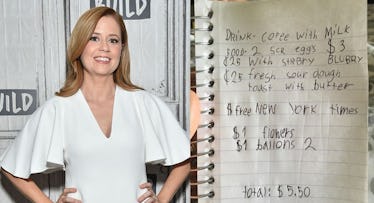 Getty & Instagram
Nothing good in life is ever free… including breakfast in bed, according to Jenna Fischer's kids. The Office actress found that out the hard way when she was handed a bill after enjoying her Mother's Day meal.
"My kids wanted to surprise me with breakfast in bed for Mother's Day," Fischer wrote on Instagram on Sunday. "They came to take my order. At the end, they gave me this bill. I'm dying laughing."
The bill charged the 45-year-old $3 for coffee with milk and two scrambled eggs, 25 cents for strawberries and blueberries, and another 25 cents for "fresh sourdough toast with butter." She was also asked to pay $2 for her balloons and flowers for a total of $5.50 owed.
But according to kids, Weston, 7, and Harper, 4, Fischer shouldn't be offended. In fact, she should feel special since they were kind enough to give her a bit of a discount. "They said 'The New York Times is not always free, that's just for Mother's Day,'" she explained.
And Fischer isn't the only one who got a crack out of the not-so-free gift. With nearly 177,000 likes so far, people are loving her hilarious post. "Don't forget to tip!" one person joked, while another commented, "They're going hard, charging for decor too!" One fan even made a reference to Fischer's stint as Pam on The Office, calling her kids "the new Party Planning Committee."
Luckily for Weston and Harper, though, their mom has nothing but unconditional love for them. In a previous interview with Parenting.com, Fischer said that the biggest surprise of motherhood has been "how much I love every single part of it, and how I have an endless supply of patience and energy I didn't know I had in me."
This article was originally published on