Jason Momoa's Son Cried Watching 'Aquaman' for the First Time
It's for a very sweet reason.
by Amanda Tarlton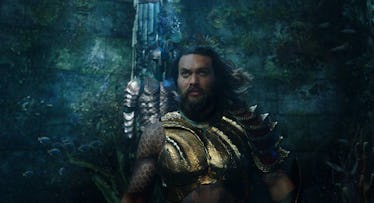 IMDB
Aquaman may have been a major hit at the box office, but it turns out some of the film's biggest fans are Jason Momoa's own kids. On the Oscars red carpet last night, the actor and wife Lisa Bonet opened up about the first time their two children watched the superhero movie.
"They had a great time," Momoa said in an interview with ABC, alongside his wife, who he's been married to since 2005. The 39-year-old described that the couple's children, son Nakoa-Wolf Manakauapo Namakaeha, 10, and daughter Lola Iolani, 11, were both "blown away" by the film.
He went on to say that "I hadn't seen it until they saw it, so it was a very special moment I'll remember forever. They were very proud of me. It was a beautiful moment."
Then Bonet, 51, chimed in, prompting her husband, "I'm pretty sure Wolf cried when he thought you got hurt." To which Momoa responded, "He did. I'm like, 'I'm right next to you, buddy.'"
Crying apparently runs in the Momoa family. In a past interview with The Mirror, the dad of two revealed, "I'm the biggest drama queen on the set. I was constantly crying." He explained that "I was raised by a single mother and I'm very connected to my emotions."
And now Momoa may have a reason for happy tears when it comes to his 2018 action flick. Aquaman, directed by James Wan, recently became the highest-grossing foreign solo superhero movie in history. Earning $806 million internationally, it has now surpassed the previous top title, Iron Man 3, which made $805.7 million.