The Surprising Reason Jason Momoa Shaved His Trademark Beard
Don't worry, he still looks great.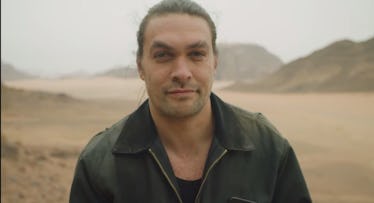 YouTube/Jason Momoa
Jason Momoa, the actor known for dramatic beard and chiseled physique is now clean-shaven. That's right, the Game of Thrones and Aquaman star has a brand new look courtesy of a deeply bizarre YouTube video.
"Bye Drogo! Bye Arthur Curry!" he yells standing in the middle of the desert somewhere as the electric beard trimmer first hits his face. Clad in a black bomber jacket and black-and-white striped pants that make him look like he escaped prison in the '30s, Momoa shaves his beard and says some stuff.
"I just want to do this to bring awareness that plastics are killing our planet. And I think I have a solution, I don't wanna bitch about it. There's only one thing that'll help our planet and save our planet as long as we recycle, and that's aluminum."
It seems that there are a lot of things we should be doing to help our planet, but we're not here to quibble. We're here to experience this deeply weird video, from the unnamed shaving buddy standing in the background to the soft music playing over the whole thing.
In the end, we learn the true purpose of the video: promoting Momoa's line of canned water, which he tells us multiple times can be recycled within 60 days.
"And about over the last two months I really kicked it into gear I wanted to make my own water so I could be an example, so I had a product I could take out and give to the world and that I could take to other companies and hope that they would do the same."
The cynic in us thinks that Momoa is being a savvy marketer for a new brand. The optimist wants to believe that, as he says in the video, "Aquaman's trying to do the best he can for my kids, for your kids, for the world."
And while we're sad to see Khal Drogo's facial hair bite the dust, the fact remains that, beard or no beard, Momoa is super handsome and super ripped, firmly in the upper echelon of Hollywood action dudes.