Terrifying Jack Black TikTok Puts End To Elf on Shelf Memes
Clearly Jack Black is now the king of the Elf on the Shelf trend.
by Isabella Bridie DeLeo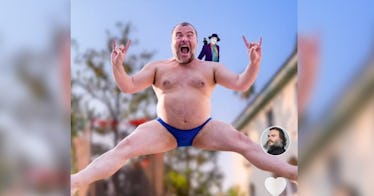 jackblack/tiktok
Have you ever heard of a Jack on a Jack on a Jack on a Jack? Well, now, thanks to Jack Black's most recent TikTok, you have.
You've heard of Elf on the Shelf, the Christmas doll with a, quite frankly, chilling folklore: he's supposed to spy on your kids' good and bad behavior, sneak out at night to report it to Santa, and then return back perched in a different location the next day. And he's equipped with a smug and creepy facial expression that suggests that he knows something that you wouldn't want him to.
But, in addition to this not-so-kind elf popping up on our shelves this holiday season, there's been an Elf on the Shelf trend that's been popping up on social media lately, and it involves, inexplicably, celebrities Photoshopping a toy-sized version of another celebrity (that either has the same, or a rhyming, name) onto their shoulders.
Reese Witherspoon shared "Grease-on-Reese" (i.e. John Travolta and Olivia Newton-John on her shoulder), Gal Gadot Instagrammed herself as "Pascal-on-Gal" (Pedro Pascal on her shoulder), Mark Ruffalo shared a "Stark on Mark" (referring to Robert Downey Jr.'s Tony Stark) and Elizabeth Banks posted "Hanks-on-Banks" (a toy-sized Tom Hanks). But Jack Black has beaten them all, turning himself into the Elf on the Shelf to end all elves.
Jack Black posted a very high-energy and high production value TikTok with a multiplicity of movie "Jacks" on his shoulder, beginning with Jack Nicholson as the Joker, then Jack White and Jackie Robinson. Jack Black also includes Leonardo DiCaprio's Jack from the Titanic, Johnny Depp's Captain Jack Sparrow, even Jack from those older Jack in the Box commercials. As more Jack's reveal themselves, separate, and increasingly upsetting vocal bits go along with each Jack, jumping to terrifying and dizzying heights. He captioned his TikTok masterpiece, "Jack on a Jack on a Jack on a Jack on a Jack on a Jack on a Jack on a Jack on a Jack on a Jack on a Jack on a Jack on a Jack on a Jack," which, well, is pretty accurate.
Check out the hilarious video below.