IVF Will Be Publicly Funded in Quebec — Proving Canada Is The Best
Bill 73 is set to make IVF more financially accessible for families in the region.
by Isabella Bridie DeLeo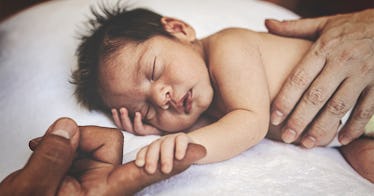 Once again, Canada has proved itself to be better than the U.S., especially when it comes to all things healthcare and social services. First, there was the COVID-19 map that revealed Canada's superior response to the pandemic ravaging the country. And now, Canada's province of Québec made news again after announcing they would make in-vitro fertilization more accessible to a lot of families in the province. For those trying to become parents in Québec, rejoice, because it's been announced that IVF procedures will now be free under Bill 73.
This week, Junior Health Minister Lionel said, "This is very good news for everybody in Québec who wants to start a family," according to the CBC. The successful tabling of Bill 73 means that women 18-40 won't have to pay for a cycle of IVF, which could otherwise cost upwards of $10,000, regardless of whether they already have children. The cost, of course, raises the more cycles a couple goes through.
Public funding for IVF in Québec has been a part of the larger policy conversation in the region for quite some time now. Previously, in 2010, Québec had provided funding for three full rounds of IVF, but the program was canceled in 2015 due to the cost. The health minister at the time, Gaétan Barrette, said that Québec had spent $200 million in the five years since the program was first introduced.
Barrette ended up replacing the public funding with a sliding scale of tax credits and made IVF less accessible to Québecois families by requiring that they pay $10,000 upfront, and would only allow families who didn't have any children to access the tax credits. Now, the IVF cycles will be free to most people trying to start families — and much more accessible as a result.
However, there are a few caveats to the accessibility of Bill 73. Women who are 41 and older are not eligible, women in same-gender couples will only get one cycle of IVF covered per couple, and Québécois who have previously undergone sterilization procedures will also not be eligible for this re-booted program.
So, the program isn't perfect, and there are clear questions about who, exactly, the IVF is being allocated to. But it does appear to be far more accessible than the iteration that existed from 2015 to today. Kudos to Québec for recognizing the monumental financial, physical, and emotional toll that undergoing IVF can often have on couples. This is surely a win for Québécois families.