These New Inflatable Dinosaur Costumes Let You Transform Into a Velociraptor, Triceratops
In honor of 'Jurassic World: Fallen Kingdom', Rubie's recently released a trio of awesome new inflatable costumes.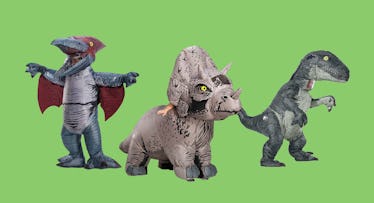 After their inflatable T-Rex dinosaur costume won the Innovative Toy of the Year Award at this year's Toy Fair, as well as the hearts of everyone on the Internet, Rubie's Costume Company has released three new inflatable costumes in honor of this summer's Jurassic Park: Fallen Kingdom. The available costumes are modeled after Blue, the velociraptor trained by Chris Pratt's character in Jurassic World, as well as a triceratops, and a pteranodon. Not a bad look to be seen sporting come Halloween this year.
The three new inflatable dinosaur costumes operate similarly to Rubie's initial offering. Solid in both kids and adult sizes, they include a battery-operated fan that keeps everything inflated as you run around. The velociraptor is our favorite, as it most closely resembles the upright style of the T-Rex and is pretty convincing. While the triceratops looks alright, it's a bit underwhelming because in the supplied photos the wearer's arms stick out from behind its plated head. Same goes for the pteranodon costume, which frankly has a pretty puny wingspan.
Still, these costumes are all pretty fun and, much like the T-Rex costume which, due to the silly way wearers must walk and the limited range of their hands, has become the most memeable costume since that rubber horse head. The costumes, available at Entertainment Earth, will be available mid-summer and range between the new inflatables are between $70 and $116. Until then, why not check out some of these other awesome dinosaur toys to enhance you and your kid's prehistoric play.