Three Popular Baby Carriers Have Been Recalled Because of Falling Danger
Their buckles could break, posing a fall risk to children.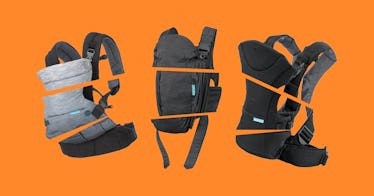 Baby products company Infantino is voluntarily recalling about 14,000 different toddler and infant carriers in collaboration with the Consumer Product Safety Commission. The issue is their buckles, which can break, posing a fall hazard to the kid carried in the harness.
Thankfully, there have been no reports of children injured as a result of this defect.
The carriers were sold between November 15 and December 20 of last year at retailers including Target and Amazon. All are soft carriers with black straps and either a gray or black body. They retailed for between $30 and $50, were made in China, and were imported by Infantino, a San Diego-based company.
The specific product names, model numbers, and lot codes—all of which are listed on the label sewn inside the carrier—of the affected products are:
Go Forward 4-in-1 Evolved Ergonomic Carrier (model 200-207, lot codes 2018 0619 and 2018 0719)
Flip Front2back Carrier (model 200-103R, lot code 2018 0719)
Up Close Newborn Carrier (200-193A, lot code 2018 0719)
Importantly, similarly named products with different model and/or lot numbers are not part of this recall, so make sure you read the label closely to make sure yours affected before beginning the recall process.
If you do have one of these carriers, stop using it immediately. Some stores may also accept returns on a case-by-case basis, but you would have to check with them.
More likely is that you'll need to initiate a return directly with Infantino, which is offering to send you "a new product of the same model or one of equal value that is not affected by this recall and safe to use" for free.
To initiate the recall process, you can email recall@infantino.com or call the company at 1-800-840-4916 on weekdays from 8 am to 4 pm PST. And we'd recommend doing so as soon as possible, as replacement products can take 3 to 4 weeks to arrive after the company receives your defective carrier in the mail.
For more information, you check the recalls section of Infantino's website, which has the official recall notice, a guide to determining if your carrier is affected, and frequently asked questions about the recall and the replacement process.