Impatient Parents: How to Schedule Your Kid's Covid-19 Vaccine Right Now!
You can get your kid their first dose this weekend. Here's where to book.
by Ethan Freedman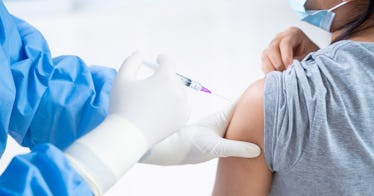 Yesterday, the CDC officially recommended that kids aged 5-11 in the United States get the Pfizer-BioNTech vaccine against COVID-19.
While the White House already released their plan on how to get shots into the arms of kids, booking appointments for these shots is a little different than finding doses for teens and adults — so here's what parents need to know about how to get their kid a vaccine appointment ASAP.
Why is the Vaccine Distribution Different for Kids?
Part of it comes down to the difference between the vaccines themselves. The main difference between this coronavirus vaccine for kids and the one for adults is the dosage. Kids will get about 1/3 of the dose given to adults, which will come via smaller needles and vials, reports The New York Times.
Because of that, parents will have to make sure that a vaccine provider they want to schedule an appointment with for their kid has those smaller doses in stock before they schedule their appointment for anyone less than 12 years old.
Luckily, those doses are on the way. The White House said that it has planned to ship kid-size vaccines to tens of thousands of distribution sites across the country, from pediatrician's offices to school nurses to pharmacies.
How Can Parents Find a Vaccine Appointment?
To find one of those vaccines, you can get in touch with some of those sites near you — especially your own pediatrician's office — to see if they have shots available.
Call Your Pediatrician
Even if they don't, they might be able to tell you when they expect to have doses. According to USA Today, you can also look directly to pharmacies, many of which are already booking appointments for kids.
Schedule an Appointment Online at CVS or Walgreens
CVS and Walgreens have appointments open for children. Walgreens will start vaccinating kids at select locations on Saturday, November 6th. CVS's appointments for kids begin Sunday, November 7th. (Get an appointment for Walgreens here, and CVS here.)
Look to Local and State Health Departments
Parents can also look for information from their state and local health departments to find vaccine appointments. Some localities haven't yet updated their websites to include information on vaccines for younger kids, but many have. The Minnesota and Ohio departments of health, for example, now include younger kids in their vaccine finder tools.
Check Out Community and School Centers and Government Search Tools
In addition, some schools — such as New York City public schools — will offer the vaccine to students. As of the time we published this story, the federal government hadn't yet added children's doses to their vaccine finder, Vaccines.gov, but they are likely to do so soon.
No matter if you can get an appointment today, tomorrow, or later this week, you will be able to make an appointment for your child. The President tweeted that the federal government has purchased doses for every eligible kid — so it's just a matter of time before appointments become widely available in your area if they aren't already.
Why Is It Important For Kids to Get Vaccines?
While rare, children can suffer severe consequences from a COVID-19 infection, including an inflammatory syndrome and, very rarely, death. Although the vaccine can come with side effects, most people will only have a mild, temporary reaction.
Very rarely, some young adults have experienced myocarditis, a type of heart inflammation, after receiving an mRNA vaccine against the coronavirus. The FDA concluded that getting kids aged 5-11 vaccinated "clearly outweigh[s]" the potential risk of these kinds of side effects, The New York Times reported.
Getting vaccinated against COVID-19 is free to anyone in the United States — no matter whether you have health insurance or not, or what your immigration status is. The CDC notes that the Pfizer-BioNTech vaccine is safe and effective at preventing infection from COVID-19 in everyone over age 5. They add that vaccinating kids can help prevent the further spread of the disease, including to other family members, and keep schools open as thousands of closed since schools opened their doors this fall.