IKEA Perfectly Recreated Living Rooms From Popular TV Shows
The only thing missing is the live studio audience.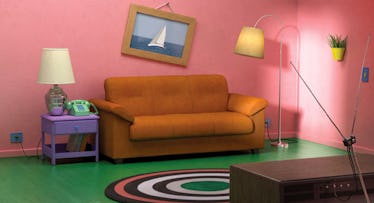 IKEA
The living room is where families watch TV, often shows whose main characters spend a lot of time in…living rooms. There's a certain through the looking glass quality about sitting in your living room watching characters sitting in their own living room, and it's one that IKEA is taking to the next level with a new photo project.
The company never comes out and says what the Real Life series is all about, but if you've ever seen The Simpsons, Friends, or Stranger Things will immediately recognize what's going on. Using IKEA products — couches, tables, rugs, paint, plants, and the like — the company recreated an iconic living room from each show. Some had to be personalized or painted to get the right look, but the results are kind of incredible.
We'll start with the Simpsons' living room. The iconic couch — famous from the gags that open each episode — sits against a pink wall with green carpeting, a purple side table, and crooked painting of a sailboat. There's also a boxy TV with rabbit ears, though we don't think either of those products is available at your local Swedish furniture emporium.
Next up: the massive purple apartment occupied by Rachel and Monica through most of the run of Friends. IKEA sells a wide variety of furniture, so the mismatched but matching look of the furniture from the series comes through in the IKEA recreation, what the brand not-so-subtly labeled a "Room for mates."
The living room from the most recent show to get the IKEA treatment is that of the Byers home from Stranger Things. The company used its MALA paint to write the alphabet on the wall and SOLVINDEN LED lights to complete the interdimensional communications system. A couple of chairs, tables, and a couch strewn with throw pillows complete the look.
And if you want your living room to look more like Evergreen Terrace, Monica's apartment, or the Byers home, IKEA helpfully listed the products it used for each room underneath the respective photos. And with Stranger Things returning on the Fourth of July, there's enough time to transform your living room for the best-decorated premiere party imaginable.
This article was originally published on