Iggy Azalea and Peppa Pig Are Feuding on Twitter Because 2019 Is Weird as Hell
Honestly, what is going on.
by Catherine Santino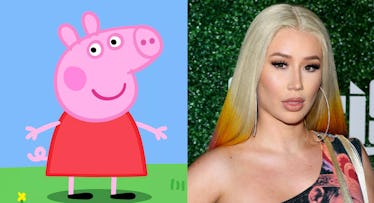 Celebrity feuds are like car wrecks: the uglier it gets, the more you can't look away. But the most captivating battles are the ones we never expected; like this one between Iggy Azalea and Peppa Pig. Aside from the fact that Azalea is a human woman and Peppa is a children's cartoon character, these two have very little overlap, which makes this conflict particularly perplexing.
Here's how it all started. Azalea, 29-year-old Australian rapper, announced she'll be dropping her album, In My Defense, on July 19. But apparently, Azalea has some competition; beloved British cartoon Peppa Pig released that she, too, will be dropping an album on July 19th. "Peppa Pig My First Album is available to stream this Friday!" Peppa's Twitter announcement reads. "Are your little ones excited? You an already listen to Bing Bong Zoo NOW!"
Azalea jokingly replied to the announcement by saying, "It's over for me now."
Peppa was apparently down to play dirty, because she responded with lyrics from Azalea's hit 'Fancy': "Peppa's so fancy, you already know."
Azalea's reply? "Collab with me now or you'll end up a breakfast special Peppa."
We certainly hope that Azalea is laughing behind her screen because otherwise, that tweet is extraordinarily ominous. But in all likelihood, the interaction is all in good fun; and an example of the delightful weirdness that is the internet in 2019. Some fans are even replying telling the pair to actually collaborate on a song, so perhaps this feud will translate into a brand new hit for the both of them. At this point, nothing is out of the question.