Hunter Biden's Infant Is Named After Beau
Hunter honored his brother and his legacy in the most incredible way.
by Isabella Bridie DeLeo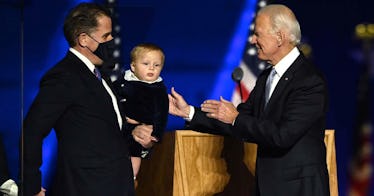 Getty
President Joe Biden's inauguration on Wednesday had no shortage of resonant moments, from Biden's inaugural address, to National Youth Poet Laureate Amanda Gorman's stunning poem and even the memeification of Senator Bernie Sanders' distinctly dad-like presence in a folding chair during the ceremony. And amid it all, one of the most heartfelt aspects of the ceremony was who Hunter Biden was holding: a cooing baby named Beau.
Hunter Biden has honored his late brother Beau, who passed away from brain cancer in 2015 at age 46, in the sweetest way: by naming his 8-and-a-half-month-old son after him. The Biden team confirmed the news, which had previously been private information, by saying that Beau Biden flew from Delaware to D.C. with the rest of the family for President Joe Biden's inauguration. And indeed, infant Beau was there at the ceremony, cooing away. The inauguration felt like a family affair for the Bidens: in addition to the President taking an oath on a family Bible that's been in his family since 1893 (which Beau also used for his own swearing-in as a Delaware attorney general), the late Beau Biden's legacy loomed large. During a previous ceremony, the President said, "Ladies and gentlemen, I only have one regret: he's not here. Because we should be introducing him as President."
The President has been outspoken about the grief from Beau's death and has said that he decided not to pursue a bid for the presidential election in 2016 due to the loss of his son, "Look, dealing with the loss of Beau, any parent listening who's lost a child, knows that you can't — it doesn't follow schedules of primaries and caucuses and contributors. Everybody grieves at a different pace," according to Parents.
Hunter Biden and wife Melissa Cohen welcomed son Beau in March 2020, and he's certainly an incredible and heartwarming way to honor Beau's memory.
This article was originally published on