A 'Big Mouth' Spin-Off Is Coming, and It's Even Raunchier
Fans of the show, just renewed for three more seasons, get even more good news.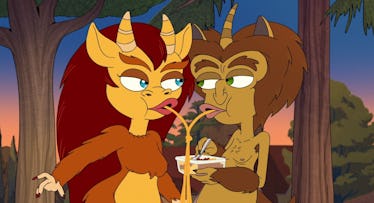 Netflix
Big Mouth is the best animated show on Netflix not about an equine Hollywood burnout, a delightfully depraved show about middle schoolers struggling with puberty, personified by a group of hormone monsters that are omnipresent in their lives. Season 3 just hit Netflix, and we just learned a spin-off is in the works.
Co-creator and star Nick Kroll announced the new show, cleverly titled Human Resources, at New York Comic-Con last week. It will be set in the world of the monsters instead of the humans, seen before in one season 2 episode.
"It's a workplace comedy that takes place in the world of the monsters … about the monsters and creatures and everything else that manages people."
Along with the shift from the human world to the monster world, Kroll said that the new show would tell stories about people of all ages.
"We are incredibly excited to tell a lot of different kinds of stories, not just about puberty, but of all the different stories of life."
A cast and release date has not been confirmed, and Kroll said that they were planning on starting production after season 5 of Big Mouth, which was renewed in July through season 6.
That means we'll probably we waiting a while to see anything more than the shortest of teaser trailers whose release coincided with Kroll's announcement. It opens with a slew of multicolored planets in the sky, panning down to a busy street with monsters walking around. One with his back to us spreads his wings in front of a sign that says "Human Resources 'We Manage People.'"