How to Watch the Strawberry Moon This Weekend
Take a break from Netflix to check out the sky.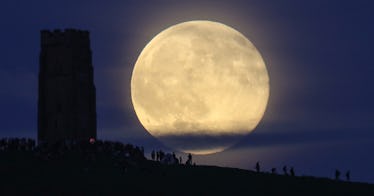 Take a break from streaming this weekend to take in a different kind of show: the full moon for the month of June, better known as the Strawberry Moon.
The arrival of a full moon in June used to serve as a signal to Algonquin tribes that it was the beginning of the short season to harvest wild strawberries, according to the Farmer's Almanac. And while it might not be as relevant today as it once was, this month's full moon still goes by that moniker in North America.
Over in Europe, it's known as the Mead Moon or Honey Moon which, yes, is probably where the word "honeymoon" comes from, which makes sense given June's popularity as a wedding month.
The Strawberry Moon will be visible for about three days, from early yesterday morning through early Sunday morning. It will peak at 3:12 p.m. on Friday in the Eastern time zone, which is unfortunately before it will be visible — stupid sun — but there will still be plenty of time to check it out.
What you won't be able to see, at least in this hemisphere, is the partial penumbral eclipse of the moon, when it passes through part of the partial shadow of the earth. Moongazers in Africa and Europe will be able to see it as a slight dimming of the moon, so at least we're not missing anything too impressive looking.
The Strawberry Moon comes just a couple of weeks before the Summer Solstice, the longest day of the year. And what that day lacks in astronomical spectacle, it makes up for with weird as hell traditions from around the world, though you can always just use it as an excuse to grill, as June 20 is a Saturday this year.
This article was originally published on