How to Watch 'Lego Masters' With Will Arnett
Here's how to stream the show after new episodes go live.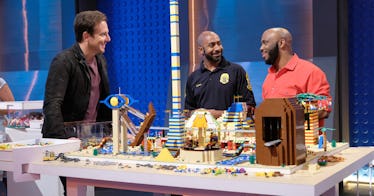 Lego Masters is basically The Great British Baking Show with plastic bricks instead of flour and eggs. The American version of the show premieres tonight at 9 p.m. ET on Fox, but the series will also be streaming so you can watch it at your leisure and with your kids if it 10 p.m. is past their bedtime.
If you have a cable subscription, you can use those credentials to sign into the Fox Now app, available for both Android and iOS devices, to watch the show. We're also betting it will be available to stream on Fox.com. But if you're a true cord-cutter, you can also watch new episodes on Hulu the morning after they air.
The show is hosted by Will Arnett—Lego Batman himself—and features ten pairs of amateurs competing against each other to create the best builds in a limited amount of time with a practically unlimited supply of bricks. The judges are Amy Borbett, a senior design manager at Lego, and Jamie Berard, who runs the Creator Expert and Architecture themes.
The first three episodes are titled "Dream Park Theme Park," "Space Smash," and "Cut in Half," which should give you an idea of how each week will have a different theme. It's unclear how many episodes the first season will have.
The show originally debuted in the UK three years ago, and an Australian version premiered last year. Later this year, a Dutch version of the show will come out in the Netherlands and Belgium, a testament to the truly global popularity of Lego toys.