How to Stream 'Jeopardy! The Greatest of All Time'
The primetime showdown is available online, and you can watch it both live and after it airs.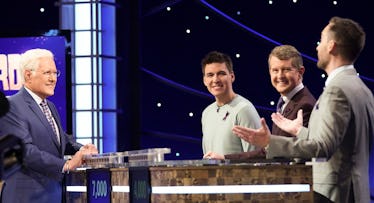 ABC
Jeopardy! has existed in one form or another since 1964, and it's adapted well to the internet age. YouTube has an extensive library of classic episodes uploaded by fans, and several tournaments have made their way to Netflix. But if you want to stream the Jeopardy! The Greatest of All Time, you'll need to go elsewhere.
Instead of syndication like normal episodes of the show, this "primetime event" is being broadcast on ABC. That means you can watch it live for free using just a digital antenna, but if you're trying to catch up (the first episode aired last night) you'll need to be a bit more clever.
If you have a cable subscription
You can simply use the credentials you use to pay your bill online to log into abc.com, where the first episode has already been posted.
If you have a Hulu subscription
You can watch it there. And if you don't already pay for Hulu, you can sign up for either the ad-supported or commercial-free plan and get the first month free. Since the Greatest of All Time event will run through next Thursday at the latest, you'll be able to see all of it for free. To be clear you can't watch it live on Hulu unless you have a cable plan or, a live Hulu plan.
If you want to watch it live on Hulu, you can opt for a Hulu + Live TV plan, but beware the only the first week is free so if the tournament goes the distance you'd either miss out on the later episodes or be on the hook for a month of the service, which is $54.99.
If you don't have cable or Hulu
ABC is accessible through the other live streaming television services, including AT&T TV Now and YouTube TV. These services will let you watch new episodes live and record them, DVR-style, for later viewing. AT&T Now comes with a one-week free trial; YouTube TV comes with a two-week free trial.
The remaining hourlong episodes of Jeopardy! The Greatest of All Time will air as follows:
Wednesday 1/8, 8 p.m. ET
Thursday 1/9, 8 p.m. ET
Tuesday 1/14, 8 p.m. (if necessary)
Wednesday 1/15, 8 p.m. ET (if necessary)
Thursday 1/16, 8 p.m. ET (if necessary)
This article was originally published on