How To Watch Kobe Bryant's Oscar-Winning Kids' Movie 'Dear Basketball'
Make sure you bring some tissues.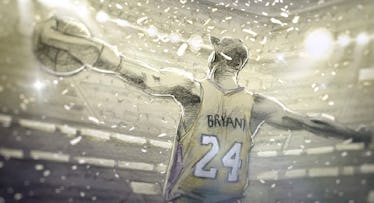 Granity Studios
Editor's note: This story has been updated. A previous version of this story claimed that "Dear Basketball" was streaming free online. That is no longer the case.
The most notable achievement of Kobe Bryant's tragically brief post-basketball life was Dear Basketball, 2017 animated short that won him an Oscar. Here's how to watch it online
You can watch the trailer for Dear Basketball here on the website of the production company that made it, Granity Studios.
You can buy a digital streaming version Dear Basketball as part of the 2018 Oscar Nominated Shorts for $7.99 on Amazon Prime.
The short is based on a poem Bryant published in The Players' Tribune in November of 2015 that doubled as an announcement that he was playing his final NBA season.
It starts with a six-year-old Kobe, already in love with the game, wearing his dad's tube socks. It ends with the 20-season veteran acknowledging that he's given everything he has and eager to "savor every moment" of the time he has left.
Bryant served as a producer on the project, and he narrates it himself. Glen Keane, a legendary animator on Disney classics like Beauty and the Beast and Aladdin, directed the film. Keane led a team of animators who hand-drew every frame, resulting in a distinct, pencil-heavy, mostly monochrome look that suits the film's dreamy atmosphere, moving as it does effortlessly between child Kobe and adult Kobe. John Williams found time between Star Wars projects to compose the score, which swells at just the right moments.
On its official website, the film is billed as "a passion project" from the three men, but as its writer, subject, and sole cast member, it's Kobe's passion that comes through most clearly both in the film and while talking about it.
"I feel better than winning the championship, to be honest with you. I swear I do," he said to reporters after winning the Oscar. "The hardest thing for athletes to do is when you start over, you really have to quiet the ego and you have to — you have to begin again. You have to be a learner all over again. You have to learn the basics of things. And, you know, that's really the hardest part."
Bryant learned exceptionally quickly, and one of the tragedies of his death are the unrealized projects he might have made had he lived longer. Of course, that makes what he did accomplish all the more precious, and Dear Basketball all the more poignant.
This article was originally published on