How to Play Where's Waldo on Google Maps on April Fools Day
Waldo has hopped off the page into the 21st-century.
by Raz Robinson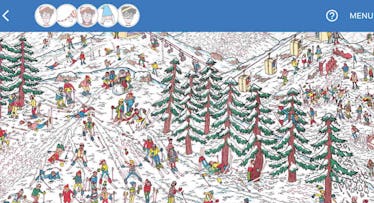 Have you seen Waldo? It looks like Google is hiding him in honor of April fools day.
For the next week, the tiny animated character, clad in his iconic red and white sweater, will pop up in the corner of the Google Maps window and prompt users to click on him and play the game.
Originally published as Where's Wally? Where's Waldo? — as it's better known in the U.S. and Canada — was created by English artist Martin Hanford in 1987 as a children's puzzle game in which readers are challenged to find the character Waldo by scouring a dense double page illustration for his likeness.
Whether on desktop or mobile, Google Maps users simply have to click or tap on Waldo to open up one of Hanford's illustrations. Once the player finds Waldo and clicks on him they'll be able to advance to the next level. Just like in the books, as the game advances the drawings get denser and Waldo becomes harder and harder to find. Adding to the fun, the game will also feature a handful of other popular characters from the franchise.
More than 73 million copies of the Where's Waldo series have been sold, but despite the extreme popularity of the franchise, only nine versions of the book have ever been made. Each version features 12 different custom illustrations that can each take Hanford up to three weeks to complete. Though the books themselves have been very popular with children, adults are no strangers to the cult of Waldo. In 2011 3,872 people dressed as Waldo conglomerated in Merrion Square, Dublin, Ireland to break the Guinness World Record for most people dressed as Waldo in one place. If that doesn't sound like the kind of record someone would want to break, consider the fact that the Merrion Square gathering was actually the second time that same record had been broken.
Between March Madness and the return of Spring, it can be easy to overlook small silly pleasures like April Fool's Day, so that Google would just hurl an iconic character like Waldo into the 21st-century digital lexicon for even just a week is a nice reminder. Plus, playing Where's Waldo is arguably one of the more fun ways to pass some time with a game on Google. It surely it beats the hell out of smashing your spacebar to make a tiny T-Rex hurdle over cacti.
This article was originally published on