How Stephen Hillenburg's Death Impacts the Future of 'SpongeBob Squarepants'
It's a sad day in Bikini Bottom.
by Alicia Kort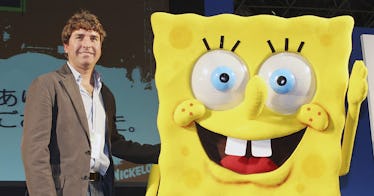 Getty
Stephen Hillenburg, the creator of SpongeBob Squarepants, passed away at the age of 57 from neurodegenerative disease ALS. He left behind a beloved show that's been airing on Nickelodeon for almost 20 years and has spawned two movies and a Broadway musical.
Hillenburg was inspired to create SpongeBob and Bikini Bottom after at working at a marine institute. He decided to create a world where fish behaved more like people than fish. Squidward Tentacles, Patrick Star and Gary the Snail became animated icons for two generations.
In 2017, Hillenburg revealed that he had been diagnosed with ALS but assured fans that he planned to keep working on Spongebob for as long as he could.
"Anyone who knows me knows that I will continue to work on SpongeBob SquarePants and my other passions for as long as I am able," Hillenburg said in the statement in March 2017. "My family and I are grateful for the outpouring of love and support. We ask that our sincere request for privacy be honored during this time."
Hillenburg still oversaw the production of his show, which now just began its 12th season. It hasn't been renewed for a 13th season yet, so there's a chance that the show might end after 2019.
In addition to the show, the third SpongeBob Squarepants movie is supposed to hit theaters in 2020. Not much is known about it yet, but it's titled The SpongeBob Movie: It's a Wonderful Sponge. This title is definitely a play off the classic Christmas movie It's a Wonderful Life, so it seems like SpongeBob might get a glimpse at what life in Bikini Bottom would be like without him.
Unlike the past two SpongeBob films, this movie is not written by Hillenburg. He is still credited as an executive producer, but he passed the torch. So fans will have SpongeBob Squarepants through 2020, but everything is up in the air after that.
This article was originally published on