How Soon Will The Johnson & Johnson Vaccine Arrive?
A third vaccine may be here soon.
by Isabella Bridie DeLeo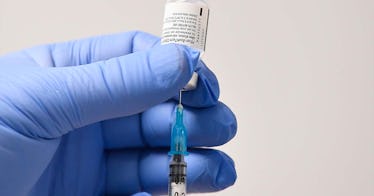 Getty
There's some potentially very good news on the way in the fight to combat the coronavirus
pandemic: A third COVID-19 vaccine could soon be heading into American's arms in a very short period of time. The Johnson & Johnson vaccine is vying for governmental approval. Here's what you need to know about when you might be able to get it.
Here's When The Johnson & Johnson Vaccine Could Be Available
Johnson & Johnson submitted an emergency use authorization application earlier this month from the Food and Drug Administration, and in a few weeks, on February 26, the FDA is set to meet with advisors to discuss the application and potentially approve the vaccine. A decision will likely follow very shortly after that. Based on the speed with which the Pfizer vaccine began distribution after being approved, that could mean that the Johnson & Johnson vaccine might be beginning to ship in a matter of weeks, not months, but only time will tell.
That could be some great news to look forward to amid what has thus far been a slow and sometimes hectic vaccine rollout. According to a statement, Johnson & Johnson plans to distribute 100 million doses in the first half of 2021, which could be an ambitious and tremendous help in curbing the spread of COVID-19.
How Does This Vaccine Compare to the Others Already Available?
The Johnson & Johnson vaccine only requires one jab in the arm, unlike the Moderna and Pfizer vaccines which require two doses administered several weeks apart. Additionally, this vaccine has a longer shelf life. According to NPR, "Unlike Pfizer and Moderna, Johnson & Johnson's Janssen vaccine can be stored for at least three months at 36-46 degrees Fahrenheit, compatible with standard vaccine distribution channels."
How Effective Is It?
The vaccine is 66% effective overall in combating severe and moderate cases four weeks after the dose has been administered. This translates to a 72% effectiveness in the U.S. and is expected to fare slightly less well in Latin America, where it is 66% effective, and South Africa, where it is 57% effective. is not as effectiveHowever, and quite crucially, it is 85% effective at preventing severe disease and is expected to become more effective over time (after 49 days, vaccinated trial participants did not report any positive COVID-19 cases). In comparison, the Pfizer vaccine is estimated to be around 95% effective and the Moderna is 94.5% effective, according to The New York Times.
What Does This Mean for COVID-19?
Paul Stoffels, the Johnson & Johnson vice chairman of the executive committee and chief scientific officer, said, "The potential to significantly reduce the burden of severe disease, by providing an effective and well-tolerated vaccine with just one immunization, is a critical component of the global public health response," according to
NPR. Stoffels added, "Eighty-five percent efficacy in preventing severe COVID-19 disease and prevention of COVID-19-related medical interventions will potentially protect hundreds of millions of people from serious and fatal outcomes of COVID-19." Hopefully, if approved, the Johnson & Johnson vaccine will begin its rollout soon, and more people can get vaccinated more quickly, ensuring herd immunity quickly.
This article was originally published on