Hourly Child Care Costs Are Going Way Up for the Rich
Many low-income families are being slowly priced out of childcare by families who can pay more without giving up huge chunks of their income.
by Raz Robinson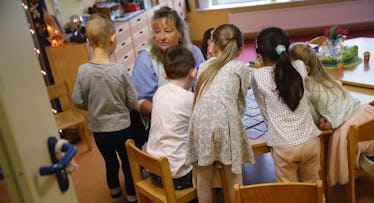 GETTY
The Center on Children and Families at the Brookings Institution have released the results of a project intended to figure out how much American families are willing to pay for childcare. Using data from the 2016 Census Bureau's 2016 Early Childhood Program Participation Survey, which polls over 5,000 families with children under five-years-old, researchers found that many families pay a bit more than $5 per hour on childcare. The numbers are higher on the coasts and lower in the south. The data additionally indicated that poor people unable to pony up that cash we're being locked out of the childcare pool.
The data, in this case is limited to kids without special needs born into families that don't use any kind of public assistance and spend at least eight hours a week with a child in daycare. The study was able to correlate the dollar amount that families were able to spend on childcare with their level of education. For example, families in which the parents have just a high school diploma spend about $6.21 per hour on child care. Families with parents who have graduate degrees pay $7.88 per hour. The numbers trend exactly how you'd guess, but overall they go precipitously up.
Between 1990 and 2011, childcare costs increased the most for higher income families; climbing from just over $120 per week to a little bit over $180. For families in the bottom 25 percent of the income bracket, the average amount spent on childcare weekly has never come close to peaking above $100 a week. But it has risen and even a slight rise can represent serious hardshop.
Consider the fact that low-income families of four usually make about $47,000 a year. If the average $5.31 per hour is tallied up for the whole year it comes out to about $8,300, which is approaching about half of what families below the poverty line make and is about 18 percent of what the average low-income family makes per year. The difficulty for families that make less in this situation is that families who make more don't just hand over more money for childcare, but are also handing over a smaller percentage of their income to pay for better service. That 18 percent means much more to a family that makes $47,000 a year than it does to the family that makes $80.000 collectively.
A separate Pew study noted that more than half of low-income American families use family members or friends as their primary source of non-parental childcare. It makes sense they do because the number of families who use center-based child care, meaning their kids go to a daycare or preschool of some kind, is increasing. As this number of high-income families paying more for child care goes up, more money starts to flow into center-based child care, and the cost—even for those who can't foot the bill — invariably goes up.