Record-High Housing Prices Are Finally Slowing Sales
Having trouble buying a house? You're not alone.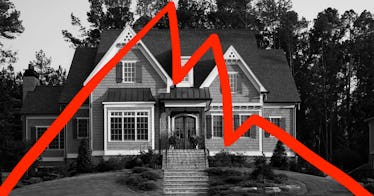 The housing market was one of the few sectors of the economy that took off when the pandemic began. Forced to spend nearly all of their time at home, many professionals suddenly conscripted into remote work (with kids learning online as well) decided to upgrade to bigger and better homes. This dramatic increase in demand meant a dramatic increase in prices that, finally, is slowing down the market.
Existing home sales fell 2.7 percent from March to April, the third straight monthly decline that still added up to 5.85 million sales nationwide. What's interesting is that the factors that caused the surge—low mortgage rates and remote work, which looks likely to continue well after the pandemic is over—are still here.
To be clear, the market is still hot. Last April, there were 4.37 million existing homes sold, so this month's number is still up about a third year-over-year. But it is clearly slowing down. Here's why.
Existing homes are too expensive and too scarce.
The median existing-home price in April was $341,600, a record high. In May of 2020, it was $283,500, a staggering year-to-year rise of more than 20 percent. It's no wonder, then, that folks either can't afford current prices or are choosing to wait to buy homes until prices come down. Additionally, the huge volume of sales over the past year means that the supply of existing homes on the market is not enough to meet the demand caused by historically low borrowing rates.
"The rise in prices that we've seen and the lack of supply, particularly at lower price points, is dragging down sales," Nancy Vanden Houten, lead economist at Oxford Economics told the Wall Street Journal. "I think that's going to be the story moving forward."
New homes are hard to come by.
A robust supply of new homes hitting the market might ameliorate the dwindling supply of existing homes, but housing starts, new residential construction projects, fell 9.5 percent between March and April, according to the Commerce Department.
Limits on available land and material costs—including the sky-high price of lumber that dads across the country have been grumbling about for weeks—are constraining builders who would otherwise be putting up more homes. And that's adding to the pressure that's keeping the prices of existing homes high.