Hot Wheels' New Car-Soccer Set Lets You Play Real-Life 'Rocket League'
Mattel teamed up with Psyonix to bring the popular video game to tabletops everywhere.
by Dave Baldwin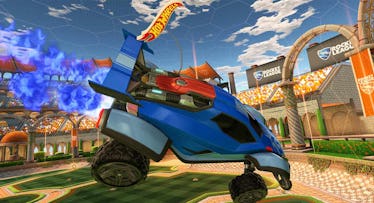 Rocket League
It's one thing to use virtual and augmented reality to 'step inside' a video game and play as a fully-immersed character. But what if, instead of wearing goggles, the video game actually came to life instead? That's the idea behind the Hot Wheels 'Rocket League' Rivals RC Set, a collaboration between Mattel and Psyonix that brings the popular car soccer video game to tabletops everywhere.
Essentially phase two in the companies recent partnership (two Hot Wheels cars were introduced into the Rocket League game last year), the new R/C game features a foldable soccer arena with goals, two app-controlled cars (Octane and Dominus), and an oversized ball with an infrared sensor that records the score on the LCD scoreboard. The cars are controlled using Bluetooth and a smartphone, and while not rocket-propelled, do charge on a base that resembles the video game's boost pad.
The new set, which debuts this week at the International Toy Fair in New York, will run $180 and will hit stores later this year.