The Internet Has Many Hot Takes on Tom Brady Kissing His Son
Who could have possibly predicted that football fans would overreact to affection?
by Ben Marx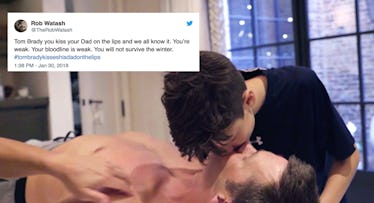 <a href="https://twitter.com/TheRobWatash" target="_blank">@TheRobWatash </a>
As you may have heard or were about to hear, New England Patriots quarterback Tom Brady and his son kiss on the lips in the new Facebook docu-series called Tom vs. Time. The scene in question features the Super Bowl favorite's 11-year-old son asking his dad if he can check his fantasy football standings. "What do I get?" Tom asks, leading to Jack pecking him on the lips. After Tom calls him out for the short kiss, Jack comes back over and plants another on his mouth for a good three seconds.
Naturally, the internet has handled footage of the non-event with its normal composure. The takes have been coming in all afternoon and show no sign of stopping. And, sure, it looks a little weird that Tom's getting a massage while also kissing his son, but the documentary makes it fairly clear that Brady spends half of his life off the field getting massages. In the episode featuring the kiss, every other scene features Brady getting his legs worked on by a masseuse, which is arguably way weirder than a mouth kiss.
Of course, instead of focusing on #MassageGate, everyone wants to dump on Brady for being overly affectionate with his son. It feels like just yesterday that Britan went through this with David Beckham, decided it wasn't a big deal, and went back to sabotaging its economy. But given that Brady is a controversial figure to begin with, it's safe to assume that we're going to be hearing about this for a long time. That means that the current hottest takes will likely be dethroned by even hotter takes.
Still, the hottest takes right now are pretty damn hot.
The Psychological Take…
The Thirst Take…
The Political Take…
The Not Even Mad Take…