A New Bill Could End Homelessness in America in 5 Years
Ron Wyden's DASH Act is ambitious. But is it feasible?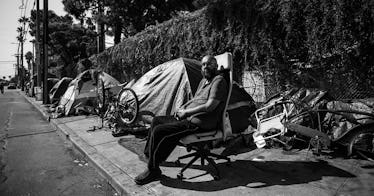 GETTY
The chair of the Senate Finance committee just announced a bill that he promises would end homelessness in the United States within five years.
Sen. Ron Wyden, Democrat of Oregon, announced The Decent, Affordable, Safe Housing Act (DASH) on Wednesday.
"Housing is a human right. Yet, millions of Americans pay more than half of their monthly take-home pay to keep a roof over their head. And more than half a million Americans don't have housing at all," Wyden said in a press release. "America is amidst a serious crisis of housing affordability, and it's a big challenge that demands big, bold solutions. As housing prices skyrocket, a generation of young people are increasingly locked out of homeownership."
A summary of the legislation reveals an ambitious array of policy changes, tax credits, and investments. It presents an existential challenge to the status quo, and not just for unhoused people and their loved ones, but also for regular people who aren't homeless but are struggling to make ends meet. Here's what you need to know.
How would the DASH Act end homelessness?
Child welfare agencieshomelessness
How would the DASH Act make housing more affordable for everyone else?
Federal Housing Finance Agency
How is the DASH Act being received?