To Celebrate Home Alone Day, These Unsuspecting Travelers Got the Biggest Surprise
Happy Home Alone Day, ya filthy animal.
by Amanda Tarlton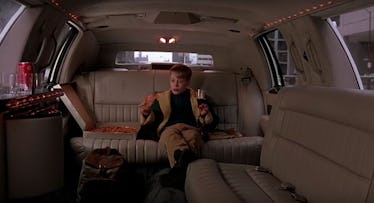 FOX/YouTube
Every fan of Home Alone knows that today isn't just any other day — it's December 22, a.k.a. the day Kevin McCallister famously defended his home from burglars. And to celebrate the occasion, Fox surprised a few unsuspecting travelers with a chance to live the 1990 holiday film in real life.
To select the superfans, a chauffeur stood in the airport holding a sign that read "Kevin McCallister." While some travelers simply smiled and kept walking, others were intrigued and approached the man, who informed them that if they could answer a few basic trivia questions about the Christmas movie (like "What was Kevin's nickname for the robbers?" and "What falls on Marv's head?"), they'd get "a big surprise."
And those who got the questions right soon found out what that surprise was: a ride in the Home Alone limo.
The surprise didn't end there, either. Inside the limo was a Home Alone-themed gift box, which included things like a fake tarantula (from the scene when Kevin puts his own spider on Marv's face), friendship turtle dove ornaments, and a bottle of aftershave like the one Kevin used for his first shave.
And of course, no Kevin McCallister-worthy limo ride would be complete without champagne glasses filled with Coke and a few greasy slices of Little Nero's Pizza, both of which the fans enjoyed before being dropped off at their homes.