Hilary Duff Reveals Why She Decided to Stop Breastfeeding
"The lows felt horrible."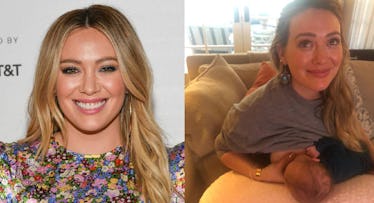 Getty/Instagram
Choosing whether or not to breastfeed can be a very personal—and very tough—decision for new moms. And it's one that Hilary Duff opened up about in a heartfelt Instagram post, where she shared why she recently stopped breastfeeding her daughter.
"Deciding to stop BFing was so emotional and hard. I thought about it ALL day everyday," she wrote on Tuesday, explaining that it was her last day of nursing Banks, which she had done for her baby's first six months. "But I needed a break. I was going to break. With the stress of a dropping milk supply and a baby that was getting bored or not caring about nursing when I was available to. I was sad and frustrated and feeling like a failure all of the time."
Duff, who stressed that she was grateful for the moments she shared with her daughter and realized not every woman had that opportunity, went on to describe that trying to pump as a working mother was not only difficult but that she started feeling depressed because of the stress. "The lows felt horrible," she said, adding that " I cried many times and felt so depressed while weening. I wasn't myself at all."
Now, having stopped breastfeeding her daughter, Duff says that she and the rest of her family are much happier. And she hopes her post serves as a reminder to other moms that whatever they're doing is enough.
"We are strong as hell over-achievers. I am amazed at all that we can do in one single day!" the Younger star wrote. "You are a [hero] every day for all that you do. Always putting yourself last and running a mile a minute…while carrying all of the bags lol."
This article was originally published on