These Kids' Pop Culture-Inspired School ID Photos Have to Be Seen to Be Believed
Their creativity and commitment to what's now a school tradition are amazing.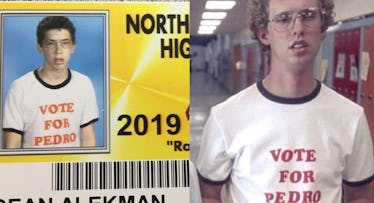 Twitter/@deanalekman2
If you're looking for evidence that kids might actually be alright, look no further than North Farmington High School in the Detroit suburbs. This year's senior class just continued a school tradition on ID picture day. Instead of ordinary photos, they took the opportunity to get creative and celebrate Halloween early.
The students just received their ID's, and they posted pictures of them to Twitter with the hashtag #NFID20. The results are incredible.
Many students chose to reference pop culture that came out when they were babies or before they were even born. Kamilla Baybayova went for a Jasmine look inspired by the classic animated Aladdin, not this year's live-action remake.
They were infants when the show debuted, but at least three kids decided to dress up as characters from The Office.
Mean Girls was released when the class of 2020 was in its infancy, but one student clearly loves the film. Her attention to detail—the R necklace, the exact same shirt, the pursed lips—is truly impressive.
Most people wouldn't wear green makeup even if a cartoon ogre shared their name, but most people aren't Fiona Godfrey.
1999 was 20 years ago, but Prince is timeless.
As is Jack Nicholson referencing a talk show host who went off the air during the Clinton administration.
And he wasn't even the only student to reference The Shining!
Napoleon Dynamite reference in 2019? Napoleon Dynamite reference in 2019!
Of course, plenty of students did go with more current references, including a few inspired to dress up as Marvel characters.
The divas of our time were also well represented.
This being Generation Z, the memes were also out in full force.
But for our money, the most ambitious—and, to be clear, bizarre—costume belonged to Elise Kravitz.
All in all, we're impressed with this year's crop of costumes (there are way more on Twitter) and we're looking forward to seeing how the class of 2021 tries to top it.