Mom's Superhuman Reflexes Save Her Son From Falling Four Stories
Her last-second lunge saved him from what would have been a nasty fall.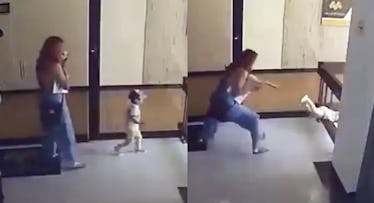 Twitter / @barstoolsports
In yet another example of a parent heroically — and kind of miraculously — saving their kid, a video of a mom saving her toddler from falling over the side of a balcony is going viral.
According to Colombia newspaper El Espectador, the video is taken from security footage captured in the Laureles Colonial office building in Medellin. It shows a mom and her son getting off an elevator, hand-in-hand, followed by a delivery man. Mom takes out her phone, in the process letting go of her son's hand.
He promptly walks over to a railing next to the elevator and crouches down, straining to get a good look at what's below. While crouching, he stumbles forward and goes through the posts in the railing.
Somehow, the mom sees what's happening and dives towards him. She reaches through the posts and, at the last second, grabs his ankle as he's fulling upside down in midair. The delivery man runs down the stairs, presumably assuming that the boy fell, but the mom is able to pull up the boy as four women from the office, seeing what's happening through the glass wall, rush out to help.
After the video was posted online, plenty of commenters criticized the mom for being on her phone, which doesn't seem fair given that it's unclear why she was on it or that it was the reason her kid was able to walk away.
Others rightly took issue with the massive gap between the posts supporting the railing, something that seems unwise if not illegal and hopefully will be rectified in the wake of this video.
This article was originally published on