Here's Why 'The Simpsons Will Never Get Canceled
'The Simpsons' might actually live forever.
by Raz Robinson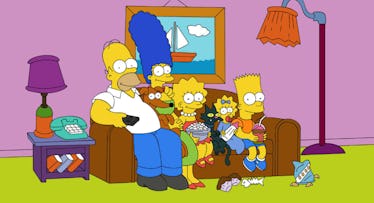 Caio Antunes Flickr
If a show can run for even four seasons, it's a success. After fifteen seasons, we'll call it once in a generation programming. But, after 29 seasons on the air, a show is just part of the culture at large. In a recent interview, Fox official Dana Walden confirmed that while The Simpsons hasn't been renewed past season 30, there is "no consideration," that Fox won't continue to order more episodes. Walden is comfortable with the show's success despite the Disney acquisition and some controversy surrounding a long time main character.
"Down the line, what kind of decision is made, I can't really speak to, but for the foreseeable future, there's so much upside and benefit to having a great, Emmy Award-winning, smart, provocative, quality show," Walden told the Hollywood Reporter.
There was a lot of fear about the future of The Simpsons in a world where Disney will now own 21st Century Fox. Disney's films might go a little dark sometimes, but nothing they do is crass so it was hard not to fear that they'd give the show the ax in a massive effort to rebrand. But, apparently, once the acquisition goes through 21st Century Fox and Fox Network are going to split. Though The Simpsons will still be licensed by Disney, Fox boss Gary Newman says that he's confident that "Disney and Fox are going to find a way to both have an interest in that show."
Still, many have argued that The Simpsons' time in the sun is already over, especially after the controversy that surrounded the character Apu, an Indian shopkeeper whose rather inartfully voiced by the white actor Hank Azaria. Though the show tried unsuccessfully to broach the subject last season, this time around Walden says what to do with the character is up to the show's creative team.