Here's How to Make a DIY 'Captain Marvel' Goose the Cat Puppet
Want to have fun with your kid? Get them that space cat.
by Catherine Santino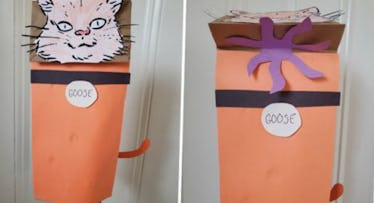 Click Communications
In need of an easy, fun activity for the kids? Look no further than this Captain Marvel-inspired Goose the Cat DIY puppet. In celebration of Captain Marvel's digital Blu-ray release on June 11 (as well as this week's #NationalCatDay), you can follow these easy steps to create your very own Flerken. The best part? You probably have all of the materials at home already. Simply print the Goose image, and gather some construction paper, a paper bag, colored pencils, a black fine point marker, glue stick, and scissors, and you're good to go.
Check out the full step-by-step process by clicking through the below image:
There's no doubt that the kids will be hyped about this craft. After all, Goose the Cat was one of the biggest scene stealers in this year's Caption Marvel. Though Goose's name was actually Chewie (after Star Wars' Chewbacca) in the comics, the character still managed to steal audience's hearts. Not only is Goose a lovable pet, but he's also a Flerken: an alien species that can lay eggs, shoot large tentacles from its mouth and shapeshift, among other things.
Ultimately, Goose scratches out Fury's eye (making him responsible for the character's iconic eye patch) solidifying him as one of the most important characters in the franchise.
Though the puppet (or your actual cat) won't be quite as advanced as Flerken aliens are in the movie, it'll surely still bring a smile to everyone's faces.
This article was originally published on