How to Help Ukraine Right Now: 7 Charitable Organizations to Know
Not sure where to start? Here's what to know.
by Fatherly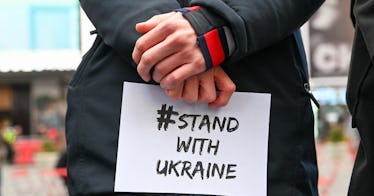 Alexi Rosenfeld / Contributor / Getty Images
Americans woke to news of the explosions and bombs in Ukraine Thursday morning, as Russia invaded the sovereign nation. Announced as a "special military operation," Ukraine confirmed the attacks in the early hours of Thursday saying that "Putin has just launched a full-on invasion of Ukraine." Civilian buildings have been bombed and civilians have died.
That Putin invaded Ukraine is no surprise — the United States and other world leaders have been warning this would happen more or less imminently — and in response, President Biden and other world leaders have launched massive sanctions against Putin and wealthy oligarchs. In the meantime, those who will suffer the most are the Ukrainians under siege right now. They are fleeing major cities, some are trying to escape to Poland, all per Vox.
What should you do in these moments? You may decide, for example, to take the time to talk to your children about war, which is a great first step if you feel it's appropriate. Tying that conversation with action — explaining that people can help others even when they're not there on the ground with them — is a great way to solidify the message we want to pass down to the next generation: when someone else is hurt, we find ways to help.
If you choose to donate money, here are some charitable organizations worth considering.
Voices of Children
Voices of Children is a foundation that, since 2015, has been helping children in Ukraine deal with the effects of war and build up their futures. As you navigate their page, you can choose which programs you'd like to directly support, including art therapy, mobile psychologists, direct family support, or video storytelling.
Save The Children
Save the Children have been fighting for children's rights around the world for more than a century. They are closely tracking the war in Ukraine and its dire impact on the lives of children, citing 7.5 million Ukrainian children are in "grave danger of physical harm, severe emotional distress, and displacement following an escalation in hostilities overnight." Your donation would go a long way here.
Ukrainian Red Cross
The Red Cross is already hard at work in Ukraine collecting blood, organizing and administrating volunteers, and directly helping those in need during this time of emergency. If you can, choose to make your donation a monthly one, however small.
Kyiv Independent
The free press in Ukraine has never been more important than it is now. Kyiv Independent, a local news organization in Kyiv, publishes in English, can be supported through their Patreon and GoFundMe.
Revived Soldiers Ukraine
If you want to help those on the front lines, donate here. Revived Soldiers Ukraine works to "provide medical aid and sustainable living standards" for Ukrainian soldiers and their families.
International Rescue Committee
The International Rescue Committee (IRC) has the main goal of evacuating regular people from war zones — including, now, Ukraine. You can donate here.
Sunflower of Peace
Sunflower of Peace was nominated by Ukrainians as one of the top organizations they'd love to see foreigners support right now. The organization prepares and provides vital first aid medical kits for doctors and paramedics on the front lines. You can find out more on their Facebook page.
This story is ongoing and this list may be updated.