Yes! CDC Recommends Pfizer Vaccine for Kids 5-11
Plus, here's where and when to get your kids vaccinated starting November 8th.
by Ethan Freedman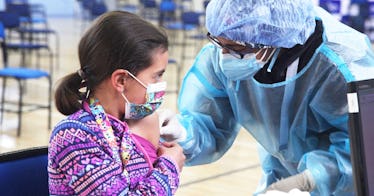 GETTY
The moment parents have been waiting for has finally arrived. On Tuesday, November 2nd, the CDC has formally recommended a vaccine against COVID-19 for kids aged 5-11.
This decision comes after last week's FDA approval of the Pfizer-BioNTech vaccine for this age group, and it promises to be a huge step toward keeping schools and communities well-protected against the coronavirus.
In approving the vaccine, the CDC says that the benefits of children getting vaccinated far outweigh the risk of anything like myocarditis. "Getting COVID… is much riskier to the heart than this vaccine, no matter what age or sex," a CDC scientist said at the meeting.
Kids will be able to start getting vaccinated on November 8th.
What's The Difference Between the FDA and CDC approvals?
On Friday, the FDA issued an emergency use authorization for the Pfizer-BioNTech vaccine in children aged 5-11, following research in kids of that age group showing that the inoculation was safe and effective at preventing COVID-19. According to data provided to the FDA by Pfizer, the vaccine is 90.7% effective against preventing symptomatic disease. The FDA also notes that none of the over 3,000 kids involved in the study experienced any serious side effects from the vaccine.
Now that the CDC has recommended the vaccination for these kids, they can start getting shots immediately. Some 29 million more kids will qualify for the vaccine now. This vaccine had already been approved on an emergency-use basis for kids aged 12 and up, and fully approved for anyone 18 and older.
What Will The Vaccine Look Like For Younger Kids?
These younger kids, aged 5-11, will receive approximately 1/3 the dose given to anyone 12 and up, the FDA notes, adding that this lower dose created just as strong of an immune response as the higher dose in older young people. Since a lot of the study period coincided with the recent Delta-fueled wave, it's likely that the vaccine remains highly effective against that more contagious variant as well, according to company data.
This vaccine is intended for use in two doses spaced three weeks apart, the same as for older kids and adults.
Why Should Kids Get Vaccinated?
During last week's FDA panel meeting, a CDC COVID-19 Response Team member Dr. Fiona Havers said that kids can spread the virus to each other and their families. It will also help keep kids in school longer — reporting has suggested that some 2,300 schools have had to close due to COVID-19 outbreaks since the school year has started. Getting more children vaccinated will limit the spread inside school buildings, keep them safe, and help them stay in the classroom as much as possible.
She added that between January 2020 and mid-October 2021, 94 kids aged 5-11 died of COVID-19. While the disease is more often severe in older adults than in children, these 94 deaths would place COVID-19 among the top 10 causes of death in kids aged 5-11, Dr. Havers noted.
The New York Times also reported that every million doses given to kids in this age group "would prevent about 58,000 cases and 226 hospitalizations in that group."
Here's Where to Get Your Kid Vaccinated
Kids should now be able to receive shots from plenty of different places — from pharmacies to their pediatrician's office. But because these vaccines are a different dose than the one given to older kids and adults, they may not be immediately available as the government distributes the medicine, NPR notes. Despite that, NPR notes, the federal government has purchased enough vials to get every eligible child vaccinated — so those doses are coming.
These doses will be deployed to 25,000 doctor's offices, over 100 children's hospitals, tens of thousands of pharmacies, and hundreds of community health centers, and school- and community-based sites.
What's Next?
Go get your kid vaccinated as soon as you can!
Pfizer will present data on the vaccine's efficacy and safety in kids under five by the end of the year.
This article was originally published on