Turns Out You Might Already Have an HBO Max Subscription
We've got the complete list of TV, internet, and wireless plans that will bundle the new streamer for free.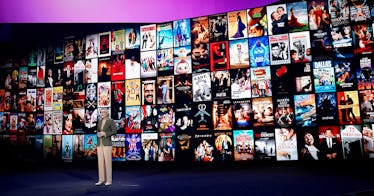 Getty
HBO Max launches next Wednesday, and if you want to watch HBO's on-demand content along with the Friends reunion, the Snyder cut of Justice League, or new episodes of Sesame Street as soon as they're available, you'll need to subscribe. Adding yet another streaming service to your monthly expenses isn't exactly welcome news, but there's a good chance you won't have to pay for it, at least not for a while.
That's because HBO Max will be automatically bundled with many other different services, a perk similar to some Verizon customers getting a year of Disney+ gratis, but on a larger scale.
AT&T Plans
TV
Most people who get TV service through HBO owner AT&T's TV providers — DirecTV, U-Verse, and AT&T Now — will get some access to HBO Max.
As long as you subscribe: DirecTV Premier and Lo Maximo; AT&T U-Verse U400, U450, and U450 Latino; AT&T TV Now Max and Premiere
One year: DirecTV Choice, Xtra, Ultimate, Mas Ultra, and Optimo Mas
Three months: All other U-Verse, AT&T TV, and DirecTV plans except AT&T U-Verse Family and Basic plans, AT&T TV Now Plus, and DirecTV Family
Wireless
AT&T Wireless customers who have the Unlimited Elite plan get HBO Max for free. Those with other AT&T Wireless plans can try the service free for one month.
Internet
Similarly, subscribers to AT&T's Internet 1000 plan get HBO Max for free. Those with other AT&T internet plans can try the service free for one month.
Existing HBO TV Plans
Traditional TV Providers
It sure feels like you shouldn't have to shell out for HBO Max if you already pay for HBO, and in most cases that isn't true. WarnerMedia has struck deals with most major TV providers — Altice USA (Optimum and Suddenlink), Charter Spectrum, Consolidated Communications, Cox Communications, and Verizon Fios — and some smaller providers who are part of the National Cable Television Cooperative. HBO subscribers who get their service through any of these companies will automatically gain access to HBO Max.
No deal with Comcast has been struck, so if you pay for your HBO service through Xfinity then you won't receive access to HBO Max, though you can cancel it through Xfinity and get an HBO Now subscription.
Streaming TV Providers
If you get HBO through Apple, Google, Hulu, Optimum, Samsung, Verizon Fios internet, or YouTube TV, you'll automatically be signed up for HBO Max. The big exceptions here are Amazon and Roku, which WarnerMedia has yet to sign agreements with. If you're able to cancel that service and sign up through a participating service, you probably should.
Existing HBO Now Plans
Subscribers to HBO Now, the channel's existing streaming service, will get HBO Max access as long as they don't pay for the service through Amazon, Roku, or Comcast.
None of the above
If you find yourself ineligible for free access to HBO Max, you can still save some money. A limited number of people who sign up before the service launches on May 27 will pay $11.99 per month for the first year, three bucks off the normal rate. It's not as good as free, but if you want to check out the HBO Max library it's still saves you a little cash.
This article was originally published on